1. Patents and utility models
Patent attorneys draft patent and utility model applications based on detailed, technical discussions with the inventors. These applications describe and disclose technical inventions. The patent claim defines the desired range of protection.
The patent application process is carried out by the German Patent and Trade Mark Office, the European Patent Office or other foreign patent authorities after the invention application has been filed. The invention is then discussed by a panel at the respective office and, if necessary, the patent claims are modified after the invention has been compared with the current state-of-the-art technology.
1.1 What is an invention/What is patent protection?
An invention is an idea for a solution to technical problems connected with a means by which it can be applied and used.
A patent includes a verbal definition (with commentary) of the invention within the patent claims section. The patent holder can forbid others from copying the invention in the definition and state any compensation he or she might demand. The political and economical idea behind patent protection is to stimulate investment and make the invention known to the public.
1.2 How patents are granted in germany
The invention must be new on the day it is registered. That means that the professional world can't already know of it, either from having read about it or via public test-runs or obvious use. The invention must be clearly distinguishable from the "prior art" technology available at the time – small modifications to already existing technology do not suffice. It must be genuinely based on innovation.
The German Patent and Trade Mark Office then checks the application requirements (request for examination). Often the application documents must be repeatedly amended in order to draw a line between the prior art technology and the invention. After the patent has been granted, other enterprises and people have 9 months to file an opposition. In this case the patent is re-examined and a decision is made.
A special request for examination is necessary in order to put a patent through the examination process. It can be filed within 7 years of the application date; if it isn't filed in due time, the registration is cancelled. The examination process can take years.
There are two important documents announcing the invention: the registration, known as the "published patent application" when it has been filed, and, after it has been approved, the "printed patent specification."
The invention is protected for 20 years from the filing date as long as the annual dues are paid (starting with the 3rd year).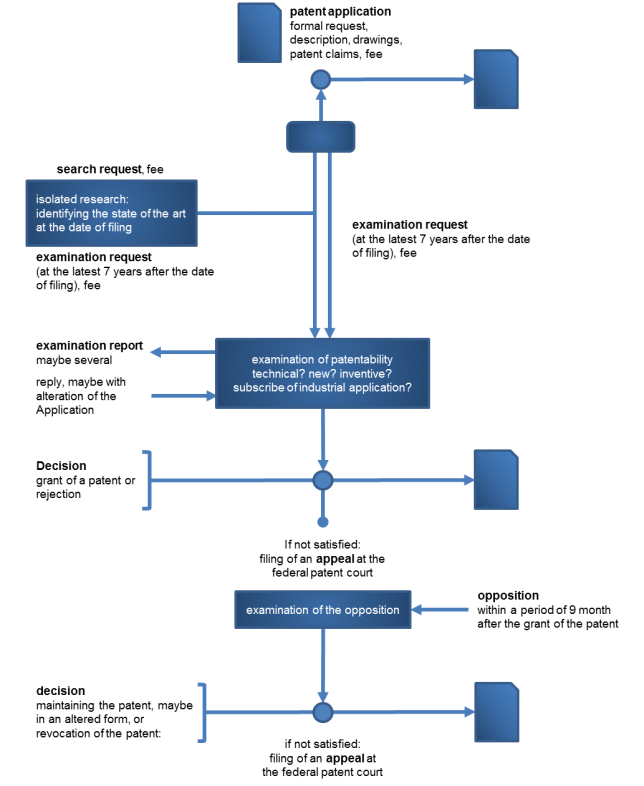 1.3 Patent holder rights
If someone is using the patent unlawfully or the patent has been infringed upon, the patent holder has the right to claim:
discontinuance, compensation, destroy the article that has infringed upon the patent, information and financial reports regarding the infringement, information about the infringing goods' origin and distribution chain, confiscate the infringing products when imported or displayed at trade shows.
1.4 Patent or utility model??
A patent protects devices and methods. Utility models protect only devices, not methods.
A patent is subsequently examined by a patent office to determine if it is a novelty and is inventive. When the examination has been completed, a patent is granted.
With utility models, there is only a formalities examination (no substantive examination). A utility model is usually issued after 4 to 8 weeks.
A patent is only valid if it has not been made available to the public in any way before the filing date (novelty). Even public announcement (for example in brochures, displays or at trade shows) made directly by the inventor and/or the applicant him or herself before the filing date also damages its validity. There is one important exception to this in regard to utility models:
the grace period. Making the invention public before the filing date doesn't do any harm if the inventor or the inventor's legal representative (applicant) makes the announcement him/herself no more than 6 months before the filing date. If the invention is made available to the public (at a trade show, for example) fewer than 6 months before the filing date, it is still possible to obtain a legal utility model. However, a patent is no longer possible.
The patent is "alive" for 20 years after the filing date, as long as the "annual dues" are paid every year from the 3rd year on. Protection for utility models is valid for a maximum of 10 years (3+3+2+2).
A utility model is, therefore, a "mini-patent" in regard to the subject of protection, examination, period of the protection's validity, etc. Advantages: faster protection, easy process. Disadvantages: no examination and a maximum of only 10 years protection; not available for methods.
You can also apply right away for a utility model when applying for a patent. It would be registered as described above. The utility model can then provide protection during the examination period needed for granting a patent. You can also "switch over" to a utility model during the patent granting procedure. A utility model will then be filed with the reasoning that the inventor has "branched off" from the patent application.
1.5 Applying for a patent abroad
A patent application in Germany leads to protection solely within Germany (territoriality). A separate application is needed for other countries.
If an application in another country is approved within a year of the first application, all public uses, public announcements or applications that happen between the first application's patentability evaluation and the second are left out of consideration. The more recent application of the two within this time period has the benefit of the first application's priority.
The following should come into consideration for protection abroad:

a national application in each country;
a European-wide application for European countries;
an international application.

A European Patent Application (EP) is filed with the European Patent Office (EPO). The EPO then completes a thorough investigation and after 18 months publishes the application with the investigation results. An examination request must be filed within 6 months of the investigation results being published. Finally, the novelty, inventive step and industrial applicability are judged via another examination procedure. An opposition procedure is included at the end if there is a third-party appeal after the patent is granted. The deadline for filing an appeal is 9 months. A European patent that has been granted has the same function and capacity as a national patent in every designated member state. That's why it can also be thought of as "a package of national patents."
An international application (PCT application) can be filed with the World Intellectual Property Organization (WIPO) in Geneva, the German Patent and Trade Mark Office (DPMA) or with the European Patent Office (EPO). This provides protection in practically all industrialized countries in and outside of the Europe, particularly in the USA, Japan, China and Korea. An investigation takes place after the application has been filed. The application is then published 18 months after the priority date. Then there are two alternatives:

after the investigation, the process is passed on to individual patent offices in the countries where the invention is to be protected. This is called a launching a "national" or, if the process has been passed on to the EPO, a "regional" phase.
You can also request a "preliminary international examination" before the national or regional phase is launched. The results of that preliminary international examination will then be used as an expert opinion.

Advantages/disadvantages of a PCT application:

if you only want protection in one or two countries, national applications are recommended.
if you want protection in 3 or more European countries, a European patent application is recommended.
if you also want additional protection for countries outside of Europe – particularly in Japan, the USA, China or Korea – then you need to consider an international application.

You can also submit a subsequent application in Germany within the one-year priority period, which is a good opportunity to bring up and work in the newest findings regarding the invention.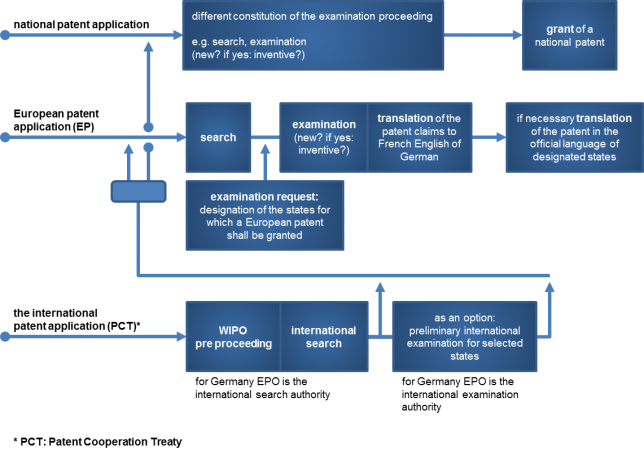 1.6 The patent attorneys' areas of expertise
Preparation for patent applications, representation in examination proceedings, representation in complaints proceedings, preparing/lodging appeals against issued patents, representation in opposition proceedings, defense against third-party appeals and claims; lodging invalidity suits and representation in invalidity suit proceedings, defense against third-party invalidity suits; issuing assessments of potential patent infringements, aid in patent infringement proceedings…
2. Trademarks
Trademarks serve as a means to show where goods and services come from; this way goods and services from various makers or providers can be differentiated from one another. Trademarks identify goods or services by being well-designed, individual and catchy. Descriptive or non-distinct information isn't acceptable. Colors, color combinations, slogans and company names can also be a part of a trademark. Trademark protection only applies to concrete, identifiable goods and services.
2.1 Protection in Germany
In order to receive trademark protection, an application specifying the goods and/or services must be filed with the German Patent and Trade Mark Office. Only in exceptional cases of intensive use can trademark protection be acquired without applying for protection and registering the trademark.
After applying, the German Patent and Trade Mark Office checks for what are called "absolute" obstacles in registration. Is the trademark distinctive or descriptive? After the trademark has been registered, other holders of older identical/similar trademarks ("relative" obstacles in registration) can lodge an objection. Then: an examination of the objection is completed and a decision is made.
Before trademarks are used, the following should be checked: are there older trademarks that could cause problems, or are there potential conflicts that must be avoided (collision examination)?
The trademark must be used within 5 years of registration (compulsory use) in order to keep its validity.
2.2 Protection abroad
A trademark application in Germany only leads to protection within Germany (territoriality). A separate application is needed for other countries.
If an application in another country is approved within a year of the first application, all obvious uses, public announcements or applications connected with the protection evaluation between the first application and the application that followed are left out of consideration. The more recent application of the two within this time period has the benefit of the first application's priority.
The following come into consideration for protection abroad:
• a national application in each country;
• a European application as a Community Trade Mark for all member countries of the EU;
• an international registration (IR).
A European Community Trade Mark is to be registered with the European Union Intellectual Property Office (EUIPO) in Alicante, Spain. Successful registration grants protection within the whole EU.
An international registration (IR) in multiple countries is granted via one single request.
An international registration functions as a national registration in all of the countries that have been "named." Then the registration is examined as a national or European trademark in the listed countries.
Sometimes the registration can be annulled in individual countries.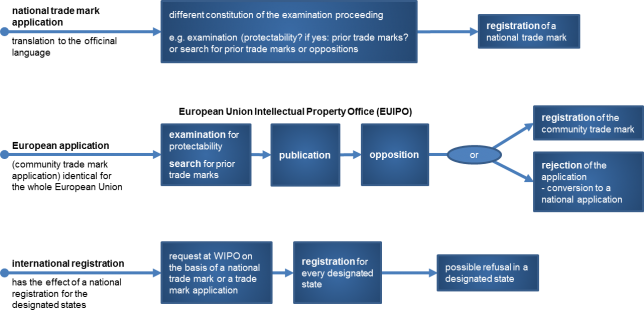 2.3 The patent attorneys`areas of expertise
Trademark application preparation, as well as creating an entry in the goods and services indexes, representation in trademark registration proceedings, representation in appeals and complaints procedures, preparing and lodging complaints against registered trademarks, representation in complaints and objections proceedings, defense against third-party objections; putting together cancellation requests and registering cancellation suits, defense against third-party cancellation requests and suits; issuing assessments of potential trademark infringements, aid in infringement proceedings…
3. Designs (design protection)
A "design" denotes the manifestation of a product (for all industrial or mechanical objects) or a part of it that can be derived from the lines, contours, colors, figure, surface, text, material or ornamentation of an industrial design. Protection can be obtained for visual representations as well as 2 and 3D illustrations.
Examples: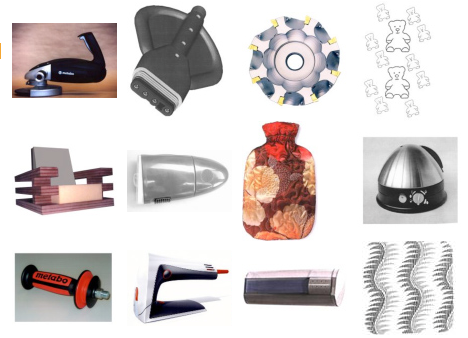 3.1 Conditions of protection
Novelty: an identical or almost identical version of the design may not be available to the public. However, any way in which the applicant has made the design public within twelve months prior to the registration or the priority date does not come into consideration (grace period).
Individual character: the overall impression of the design must be different from the overall impression of a design which already exists (comparison of the design's distinguishing hallmarks).
3.2 National and international protection
Applying in Germany:
Apply at the German Patent and Trade Mark Office. Involves a written proposal as well as charts, diagrams or photographic representations of the design. The maximum period of protection is 25 years (it can be renewed every 5 years).
Community designs that have not been listed:
If a design is made public for the first time in the EU (for example at a trade show), design protection can be automatically granted without applying for it. You simply have to be able to prove what exactly was shown and when. Then you have 3 years of protection against copying.
Design Protection Abroad:
further protection in the EU: European Community Design (EU Regulation 6/2002)
protection within the EU and abroad, particularly in the countries bordering the EU: filing internationally with the WIPO in Geneva, Switzerland, in accordance with the Hague Agreement (HMA)
filing with national offices
3.3 Scope of protection
Protection against designs that have the same overall impression as the protected design. However, the known range of shapes should be taken into consideration. An example of infringement with two water boilers: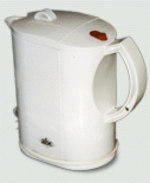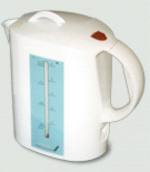 *) Dresden State Court v. 15.1.1997 (05 O 6125/96)
3.4 The patent attorneys`areas of expertise
Design application preparation, representation during the registration process, representation in complaints procedures, preparing for and filing cancellation requests and cancellation suits, defense against third-party cancellation applications and cancellation suits; issuing assessments for potential design infringements, aid in infringement proceedings…
4. Representation of protective rights abroad
Our office has an international network at its disposal and works very closely with other offices in every area of the world. We have daily contact with carefully selected offices, particularly in North America, Japan, Korea and China, and stay in very close contact with the attorneys there. On the one hand this provides us with the opportunity to secure protection abroad for our clients' new inventions at the lowest possible price; on the other, we are able to represent and assist foreign companies in the protection application process in Germany and Europe.
5. License agreements
Patent attorneys negotiate and work out license agreements.
By using a license agreement, the licensor can grant the licensee the usage rights for the object subject to protection. In return, the licensee pays a license fee. The license agreement is a type of contract that strictly follows liberty of contract guidlines. A license agreement should have or take into account the following:
The preamble: the previous history of the agreement and the implicit purpose of the contract (what do the partners want?)
Clarification of definitions:
subject matter of the agreement (what is the license fee paying for? What is the licensee allowed to do?)
legal validity, now and in the future
know-how for the agreement (define and document)
licensed territory
The license:
exclusive or simple license; what is the license for (production or sales)?
exceptions, limitations
obligation to exercise, rights to grant sub-licenses?
Further liabilities of the licensor:
briefing, advising
providing the know-how
further cooperative work, trademarks, advertisement and marketing
options for new uses, improvements
Remuneration:
lump sum payment when the contract has been signed (are they entitled to do so?) – ongoing payments = license fees (percentages, for example), billing, accounting, monitoring
"most-favored treatment" (if there are multiple licensees)
minimum royalty (how high, starting when)
Protective rights:
ongoing payments – who pays?
sharing information about infringements, conduct of a case – liability for business utilization, validity, inexistence of third-party rights?
duties of the protection rights, how does the mutual agreement look?
Time period, expiration of the contract, other:
time period
cancellation, cancellation deadline
exclusion of inefficacy if individual clauses are invalid
provisions for and against assignees
applicable law, jurisdiction
6. Rights regarding employee inventions
According to patent law, an inventor has the right to a patent for his or her invention. The law relating to employee inventions details how the rights to the employee invention are passed on to the employer.
Inventions become so called "service inventions" when they come from the employee's incumbent area of activity within an enterprise or are significantly based on experience gained from or the work done at the workplace.
It is the employee's responsibility to separately give the employer written notice of a service invention as soon as it has been completed. The employer then has 4 months to give the employee a written explaination if he or she does not want to make use of, claim or take responsibility for the invention. Prior to October 1, 2009, the employer had to explicitly and formally take over the invention, or else it became a free invention.
If the employer claims the invention, the rights to the invention are also transferred over to him or her. It is, however, the employer's responsibility to apply for a patent or, if it is more cost-effective and suitable, a utility model for the invention. The employer must pay a reasonable compensation for the use of the invention.
After information about an employee invention, the responsable person in the company should do the following three things: confirm that notice has been recieved, note the four-month deadline and check that the notice contains all of the pertinant information. This would be: what do the known solutions look like? What disadvantages are there? An applicable example: what makes the invention so new and different? What are its greatest hallmarks? How was it invented? Who had given the inventor the task? Had previous work already been done in the process? Are there other people involved other than the inventor?
We are happy to take care of all necessary actions and duties in order to ensure that our clients conform with employee invention law. Here are some examples of what those could be:
the inventor/s releasing the invention
confirmation from the inventor/s regarding the claim
clarification of which people are involved with what parts of the invention
corresponding with the inventor/s and preparing patent application documents
calculation and payment of the inventor's remuneration
release of the invention abroad, including conditional joint-use rights when necessaery
providing property rights for its use, including conditional joint-use rights when necessary
After the invention has been claimed, agreements can be made with the inventor/s in order to make it easier to use and follow the rules and regulations. We can gladly advise you personally about these issues, so that your rights can be secured with the least amount of time and trouble.
7. Evaluation of protective rights and IP portfolios
Are intellectual property protection rights (patents, utility models, trademarks, designs) always only seen from your enterprise's cost-management point of view?
Do you sometimes ask yourself what your patents or trademarks are worth?
Would you like to sell or buy protective rights, but don't know what prices are suitable?
"Intellectual property" resulting from research and development is gaining more and more value for enterprises right now in the innovative European world. Lawmakers accomidated for this by making it possible for people to enter and activate intellectual property created and produced on one's own in their balance sheets by passing the Accounting Law Modernization Act in Germany (BilMoG). This concerns in particular intellectual property protection, such as patents, utility models, trademarks and designs, and their worth here.
Trademarks and patents also have an ever-greater role in credit collateralization today. Credit limits can be expanded by pledging intellectual property protection or transferring securities for intellectual property protection to a creditor. Valuable patents and/or trademarks owned by an enterprise can be very beneficial, because they can be used a means of reducing interest rates.  A protective rights portfolio even plays an important role when selling an enterprise.
The first step is getting an appraisal of an enterprise's current stock of protective rights done, in order to determine what it is worth. You can find complete know-how all in one place at DREISS Partners Patent Attorneys. We can give you an accurate value appraisal for your protective rights with the information you give us. Our comprehensive technical and judicial team can also conduct due diligence processes, in which, most importantly, the legal aspects of the intellectual property protection at hand are clarified. We can do all of this for you not just for individual protective rights, but also for complete protective rights portfolios. We can also assess your application strategy by using our background knowledge of selected competitors' strategies, for example.
When we are finished, you'll have all of the information you will need when you have to talk with your bank, compile your financial records and/or announce your application strategy.
8. Topography protection
You can protect three-deminsional structures of microelectronic semiconductor certificates (topographies) with the Semiconductor Protection Law. In order to obtain protection, you must register the topographies with the German Patent and Trade Mark Office.
9. Plant variety rights
Plant variety rights for a type of plant (variety) are granted when they are distinguishable, homogenous, stable, new and are labeled with a usable variety name. In order to receive plant variety protection, a variety protection application should be filed with the Federal Office for Plant Varieties.